Auction 142C
Modern Art

13. December 2018 at 5:00 PM MEZ CET
---
Catalogue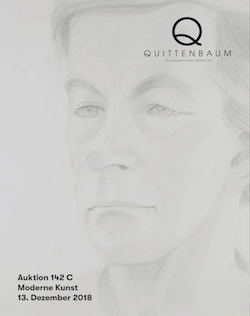 ---
Post War Rules
The 150 lots of the Art Auction taking place on 13 December focus on international works of the Postwar epoch.
A history-charged pencil drawing by New York artist Alex Katz from the year 1973 is on offer: 'Rudy Burckhardt'. Photographer and filmmaker Rudy Burckhardt used to work for the New York-based American 'Art News' art magazine. Under the heading 'Paints a Picture', the magazine published a series of articles about up and coming artists and Burckhardt was the one to provide the photographs. He accompanied each artist through their day, thus documenting the progression of each work of art. His photographs convey an extraordinary spontaneity, a feature missing from posed photographs. Burckhardt was extremely popular with the artists and found many friends among the representatives of the abstract and geometrical Expressionism and later artists who had turned their back on it to favour motifs of everyday life instead. Jane Freilicher, Alex Katz, Fairfield Porter and Larry Rivers, all used to use gestural brushstrokes on figurative compositions, inspired by their abstract precursors. As a testimony of his appreciation, Alex Katz drew Rudy Burckhardt's portrait in 1973, as the latter, throughout his life, was preoccupied with capturing the most accurate moment in the life of his painter-colleagues. Alex Katz's drawing is depicted full-page in the exhibition catalogue Alex Katz, Marlborough New York, 1973, p. 25 (tax: EUR 22,000 – 25,000).
Some years later, in 1977 and 1978, the two complete folders, 'From Shakespeare I' and 'From Shakespeare II' saw the light of day, first acquired by the Milan-based gallery Studio Copernico, they have been in a private collection since. The two series of colour aquatints in a folder can be purchased for a tax of EUR 10,000 – 13,000 each.
Contemporary Art brought forth works by Mariano Vilela and Julian Opie. Argentinian artist Mariano Vilela, born in Buenos Aires in 1970, created an untitled series of geometrical – abstract pencil drawings on paper (mounted on Alu-Dibond) (tax: EUR 7,500 – 9,500). London star Julian Opie is represented with an animated composition of a forest. The work called 'Forest' was made in 2015. In order to achieve this kind of work, Opie uses large flat-screens or displays, thus building his animations with the help of their permanent flowing movement. 'Forest' was purchased at the Alan Cristea Gallery, London (tax: EUR 7,500 – 8,500).
The Pop Art offer is widespread. Next to Andy Warhol, whose hand-coloured 'Flowers' print, published by Peter M. Brant, 1974, is on offer (tax: EUR 7,500 – 9,000), six lots stem from Mel Ramos, who passed away this year (taxes ranging from EUR 200 – 2,700), among them 'Giant Panda' from the year 2012.
Traditional paintings from non-European countries are also on offer. An early painting depicting fishermen, 1907, is by Jamin Prakash Gangooly, from India (tax: EUR 5,000 – 6,000). Burmese painter U NGEW GAING painted the cityscape of Yangon with the Independence Monument, the Sule pagoda and the City Hall (tax: EUR 9,000 – 12,000).
---