Auction 132A
Modern Art

22. May 2017 at 2:00 PM MEZ CET
---
Catalogue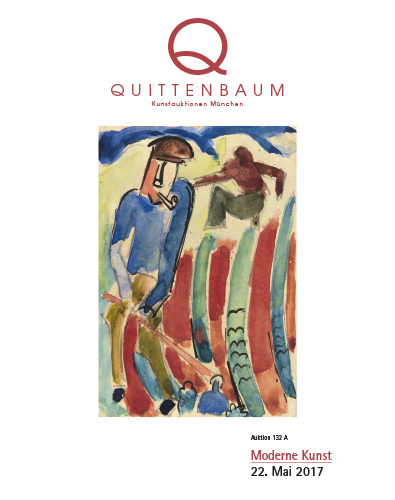 ---
Among the 160 lots of Classic Modern and Postwar and Contemporary Art the two postcards by Karl Schmidt-Rottluff and two abstract compositions by Polish allround-artist Tadeusz Kantor were the most popular.
A German dealer on the telephone got the upper hand on both the postcards over a German private collector. The Brücke artist wrote both postcards to German Impressionism aficionado Curt Herrmann in 1921 respectively 1922. Curt Herrmann was a founding member of the Berlin Secession and a patron of younger artists since 1900, among them members of the Brücke artists association. The postcards on offer in the auction eloquently bear witness of Curt Herrmann's and Karl Schmidt-Rottluff's close friendship. The hammer fell at €26,000 (lot 37, estimate €25,000 – 30,000) and €32,000 (lot 38, estimate €25,000 – 30,000) respectively.
The abstract paintings by Tadeusz Kantor, which never had been on the market before, both from the year 1964, convinced versed collectors in Poland, the artist's homeland. Up to the auction, they have been in a private collection since their making and received hammer prices of €20,000 respectively €21,000 (lots 94 and 95, estimates €22,000 – 24,000 each). Both hammer prices are the highest ever received for the artist's work in a German auction house. Another Polish abstract painting was made in the 1990s by Thomas Tatarczyk. Askan Quittenbaum noted the hammer price for the large-formatted composition down at €15,000 (lot 31, estimate €15,000 – 20,000).
A choice of edition by Shirin Neshat, Günther Uecker, Victor Vasarely and Andy Warhol were very popular as well.  
Unsold lots will be available until June 23, 2017.
---