Auction 149B
Design

19. February 2020 at 3:00 PM MEZ CET
---
Catalogue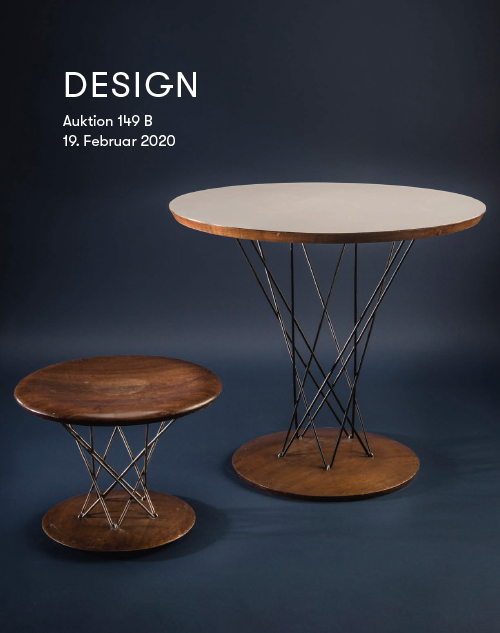 ---
On Wednesday, 19 February, our auction week continues with the "International Design". As on the previous day, some 270 objects by renowned designers from all over the world will be up for bid.
The Netherlands, USA and Germany are most strongly represented in this selection. Since the 2000s, Dutch design has once again been in the foreground. The sometimes playful designs of the Droog group, the designers around the Moooi company and also individual designers such as Hella Jongerius have an international fan base. Nils van Eijk and Miriam van der Lubbes, for example, designed the monumental table 'Godogan' for Droog in 2006. Of the 20 planned pieces, only six are said to have been executed. They were hand-carved in Indonesia. It is therefore not surprising that the motif is borrowed from an Indonesian fairy tale. The table is now called up between EUR 9,500 - 13,000. Isamu Noguchi, who lived in Brooklyn, is present with two of his 'Rocking stools' and a 'Cyclone' table. The side table, around 1955, in a Knoll production, is offered for EUR 3,500 - 5,000.
Briton Tom Dixon is represented with several chair designs, but his 'Chain' floor lamp, which he designed around 1984 for Tronconi, Corsico, is the most unusual of the selection. The lamp captivates with its mother-of-pearl, holographic-looking surface made of PVC. It is estimated at EUR 2.700 - 3.600. Sebastian Wrong, one of the younger British designers, made his prototype shelf 'Perspective', 2013 for the exhibition '7 Studies', that took place at Galerie Jörg Schellmann, Munich, in the same year. It is now available for EUR 2,500 - 3,500.
In the German design chapter, we are happy to offer several rare pieces. In addition to some pieces of furniture by one of the most famous designers of the German post-war period, Egon Eiermann, it is above all a set of four stacking chairs and the rare accompanying table that Frei Otto designed for the World Exhibition in Montreal in 1967. The furniture can now be purchased for EUR 4,000 - 5,000.
Special attention, however, is paid to the two tubular steel armchairs that Erich Dieckmann designed in 1930 for the Cebaso company in Ohrdruf. The authenticity of the two armchairs made of nickel-plated tubular steel and wickerwork has been confirmed by the Bauhaus Archive Berlin in 2016. The estimated price for the pair is EUR 25.000 - 35.000.
---