Auction 146C
International Design

25. September 2019 at 3:00 PM MEZ CET
---
Catalogue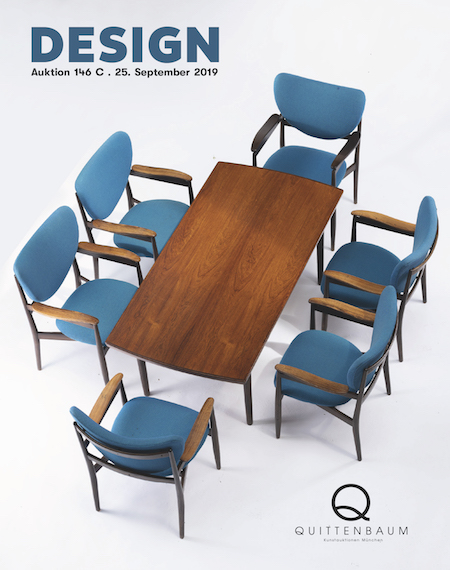 ---
At the beginning of the auction season, Quittenbaum will be offering a range of 'Best Ofs' of International Design. Amongst the objects, there are especially nice pieces by Scandinavian designers such as a very fine dining table with six chairs by Finn Juhl (lot 464), the man who brought Danish Modern to America. The set is rarely on the market and comes with CITES certificate. In the area of Scandinavian Design, we continue with Hans J. Wegner: the two 'CH 27' armchairs designed in 1949 (lot 465) start at 4,000 EUR, the two 'JH-512' - 'X-chair' folding chairs (lot 466) also designed in 1949 start at 6,000 EUR. 
Lovers of Dutch Design will be excited to see the rare piece '2Loveseat' by Richard Hutten (lot 680) up for auction: There are only three samples of the small sofa made for two with an estimate of 5,000 EUR. Today one of them is in the Gemeente Museum in The Hague. 
Three pieces of seating furniture by Canadian-born American Architect und Designer Frank Owen Gehry (lots 654, 655 and 685) will be offered. The 'Wiggle Side Chair', estimate 700 EUR from the series 'Easy Edges' is followed by the 'Skinny Beaver' chair, estimate 3,000 EUR from the series 'Experimental Edges'. Although the concept of these pieces of furniture seems simple, since both are made of glued corrugated cardboard, they are designed with the accuracy of an architect. They are equally comfortable as well as solid. The third Gehry piece is the 'Slanted Side Chair', estimate at 3,000 EUR. A first cardboard version was realized for the 'Easy Edges' series - now a later version made of concrete is up for auction. The chair bears a badge of the Vitra Design Museum where it was exhibited during the Frank Gehry exhibition in 2011. 
An entire chapter (lots 556-569) is dedicated to the Frenchman Roger Capron, who won gold medals at the Milan Triennale in 1954. His upbeat objects of earthenware bring along a breeze of French summer spirit. The jugs and carafes have advanced to the position of collector's items and with estimates starting at 300 EUR, are sure to attract bidders. 
The 'Loop chair' (lot 678) by Maarten van Severen is certain to catch the attention of our minimalist clients. With the approach to reduce and rethink his designs until only the mere necessary is left, the chair is made of a ribbon of bent aluminium joined by two rubber spacers. One copy of this minimalistic design is also part of the permanent collection of the V&A Museum in London, as it belongs in any exquisite design collection. The 'Loop chair' is estimated at 3,000 EUR. 
---