Auction 143A
Italian Design

19. February 2019 at 5:00 PM MEZ CET
---
Catalogue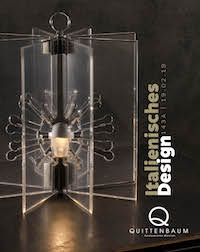 ---
143A - Italian Design
The new auction year 2019 started with the 'Italian Design' sale, which offered a wide selection to collectors and enthusiasts.
The designs by Ettore Sottsass were in the limelight, 16 out of 20 designs were sold to international clients from the USA and Europe. The illuminated mirror object 'Ultrafragola' received a hammer price of EUR 7,800. The vase '262' changed ownership for EUR 3,400.
Elegant furniture, such as Aldo Tura's baroque green leather armoire and Space Age lamps, such as Stilnovo's 'Orbital' ceiling light (hammer price: EUR 3,400) and Oscar Torlasco's 'Sputnik' ceiling light (hammer price: EUR 2,800) were in focus of the auction and attracted many online bidders and interested parties on the floor.
Unsold objects will be available in our post auction sale until Friday, 22 March.
---