Auction 140D
Auction International Design

10. October 2018 at 5:00 PM MEZ CET
---
Catalogue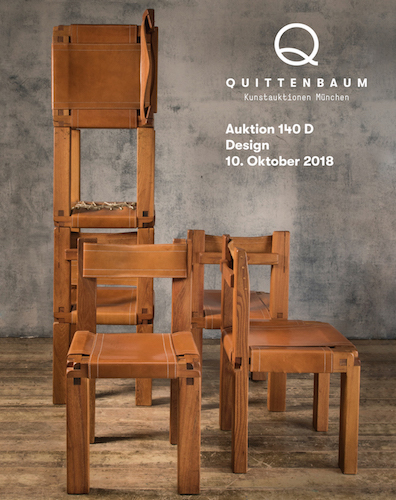 ---
International Design
Especially the objects from the 1960's by the French architect and designer Pierre chaps were in great demand at the international design sale. His bookshelf 'B17B' ( lot 779) increased from its estimate of €5.000 to €11.000 until it was finally sold. Also, the other furniture by the designer, for example, the armchair 'S10' (lot 780), the six chairs 'S11' (lot 782) and the sideboard 'R08' (lot 785) were sold high above their estimates.
Right after this, the 'Revolving Cabinet' - 'PC/15', 1970 by the Japanese Designer Shiro Kuramata (lot 786) found a new owner for €3.000. A fierce bidding battle evolved around a candlestick after Rudolf Steiner (lot 659). The item was finally sold for €3.300, this being five times its estimate after some disappointed bidders had given up.
Pairs of armchairs were especially sought after during this auction: a London based gallery even purchased three pairs. Among these a pair of armchairs by the Finnish designer Ilmari Tapiovaara from ca. 1955 (lot 717). Both of the other pairs of armchairs happened to be by Czech Designers (lot 672 for €3.800 and lot 690 for €3.200). Is this coincidence? Since both of them were sold above the estimate we might be spotting the rediscovery of Czech Design. In the area of Scandinavian lighting, the 'Ring-Leuchte' wall lamp for the 'Visiona 2', 1969 (lot 778) is still very popular and was sold for €2.600. The Finnish designer Pavo Tynell also stays very much sought after: the bids for his floor lamp 'Hotel Vaakuna Helsinki' (lot 678) increased from €3.000 to €4.600.
Especially noteworthy is the 'Compartment Man' shelf by the Swiss design duo Susi und Ueli Berger (lot 797): this item is very rare in auctions since it is nowadays only produced on special request and therefore seldom sold. Produced at a factory price of €4.000 the buyer made a real bargain with the hammer falling at €2.200.
---