Auction 137B
Design

21. February 2018 at 3:00 PM MESZ CEST
---
Catalogue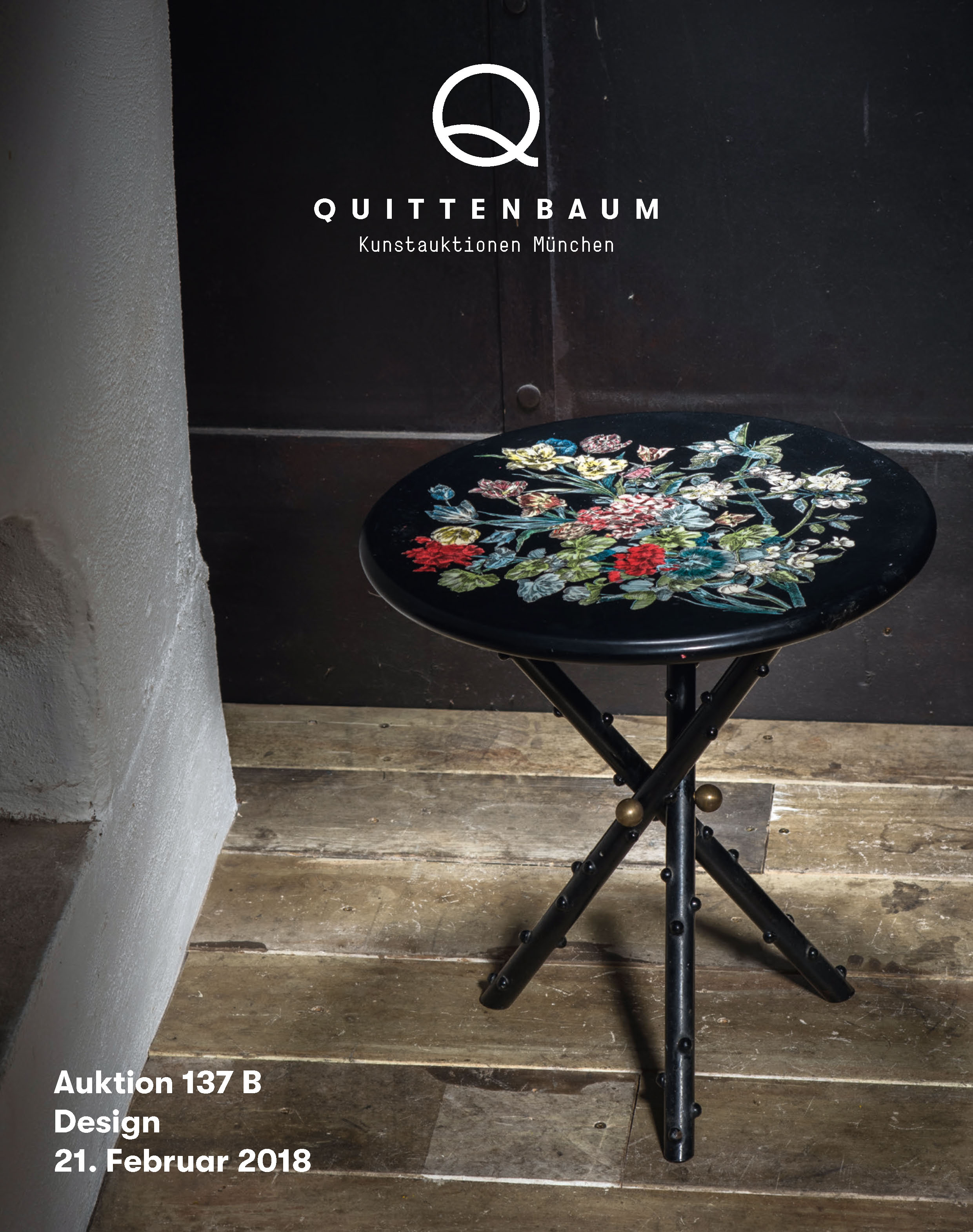 ---
International Design - Get inspired! - Exciting new ideas for Design and Interior in the Springtime with Piero Fornasetti, Joe Colombo, Gino Sarfatti
With 400 lots, Quittenbaum Art Auctions will offer, as usual, a well-assorted pallet of Design and Arts and Crafts catering for all tastes. 50 lots of the popular objects by Fornasetti will make the hearts of décor aficionados leap. From plate to table, razor to umbrella stand, lighting, trays and lots of hotchpotch are on offer for moderate prices between €200 and 2,000.
As always, designs of our Italian neighbours aplenty! Classic furniture like Joe Colombo's 'Tube chair' (lot 467, estimate €3,800 – 4,200), Gianfranco Frattini's '530' desk (lot 329, estimate €3,000 – 3,500), 'Medea' chairs by Vittorio Nobili (lot 296, 3 for €2,100 – 2,500), 'Cab chairs' by Mario Bellini (2 sets, lots 500, 505, €1,500 – 2,000 each) and the famous 'Spazio' office furniture by B.B.P.R. (shelves, desks and more for estimates between €500 and 1,200) are always coveted. The rocking chair for Cassina, attributed to Gio Ponti (lot 342), is certainly an eyeful. It was professionally restored and will be offered for €2,500 – 3,000.
The set of two 'Chester' lounge chairs and a four seater couch by Italian luxury label Poltrona Frau is a special treat. The set was designed by Renzo Frau in 1912 and executed in the 2000s. Barely used, the two lots will be called up for a fraction of their original price (lots 210, 211, estimate €3,000 – 4,000 each). Among the other highlights is a 'Tapileo' carpet: Made only in small quantity, the design icon by Gabetti, Isola, Re and Drocco will be called up at €15,000 (lot 401).
Lighting design by Gino Sarfatti (estimates between €500 and €2,500), Joe Colombo (lot 445, 'KD 24' table light, estimate €1,000 – 1,200), Superstudio (lot 462, 'Gherpe' table light, €1,800 – 2,200) and – especially rare – a 'Mikado' table light by Luigi Caccia Dominioni (lot 417, estimate €6,000 – 8,000) as well as the contemporary design of the 'Hope' ceiling light by Paolo Rizzatto and Francisco Gómez Paz for Luceplan (lot 604, estimate €1,800 – 2,200 for the large version with a diameter of 120 cm) complete the offer of Italian lifestyle. The two armchairs by Belgian designer Georges van Rijk (lot 313), very rare and very elegant, are estimated at €1,500 – 2,000. Likewise elegant – and stackable! - are the two 'Saghi' chairs by Japanese Kazuhide Takahama (lot 492), with an estimate of €1,800 – 2,000. On the other hand, Masanori Umeda's 'Getsuen' chair is very playful and flowery, the design is quite young (1990) but has the potential to become a Design icon yet (lot 587, estimate €1,200 – 1,500). Another classic, rarely seen in Europe, is Vladimir Kagan's rocking chair with ottoman (lot 344) from the year 1955, it's quite affordable for €2,200 – 2,500. The 'Spine chair' is iconic. Designed by André Dubreuil in 1988, after 30 years, it belongs among the classics of the 1980s (lot 581, estimate €1,800 – 2,000). Also on offer: Streamline Design from the United States of America. For example Kem Weber's famous 'Zephyr' table clock from the year 1933 (lot 235, estimate €600 – 700) and a portable 'Bullet' radio (1945) by Fada Radio & Electric. Co. (lot 246, estimate €800 – 900).
There's no business at Quittenbaum Art Auctions without German Design at its finest. This time, among other things, four posters by cult graphic artist Günter Kieser are on offer. The Bröhan-Museum Berlin dedicated an exhibition to Kieser in 2017. Get museum quality from the 1960/70s for small prices (lots 396-399, €400 – 600). The 'Philharmonie I' ceiling light from the year 1959 originally comes from the Philharmonie building in Berlin; it is a rarity by German designer Günter Ssymmank, who used to work closely with Hans Scharoun (lot 346, estimate €2,000 – 2,500). Take the convenient opportunity to furnish your home for the 2019 jubilee, with Marcel Breuer's Bauhaus classic, the 'B10' table, here in an early execution by Thonet (lot 222), for a moderate estimate of €1,800 – 2,200.
arthur floss modernes design
---
Longing for Italy
International Design seems to be very popular this spring. Especially the Italian Design excelled in Wednesday's auction. Works by Gino Sarfatti, Ettore Sottsass and Piero Fornasetti were as coveted as were unknown creations, all fervently battled over.
The three lots of sconces by Sarfatti were successfully sold, his four '262b' wall-/ceiling lights from the year 1961 even had their price increased from €2,000 up to €3,200 (lot 489). Ettore Sottsass' pottery designs all realised good prices, but it was his 'Callimaco' floor lamp that received the highest knock-down. Having been called up for a moderate €500, it is now part of a Swiss collection for €2,100 after a fervent bidding war (lot 563). Piero Fornasetti's whimsical pieces are as popular as ever, over half of the selection could be sold. The surprise of the afternoon, though, were the 'Atollo' fruit bowl by Enzo Mari, 1965, going up from €600 to €1,400 (lot 365) and a comfy chair of brown leather that could not be attributed to any designer yet. It also went from €600 to €1,700 (lot 422).
The absolute highlight of the American design section was Vladimir Kagan's rocking chair with ottoman from the year 1955. Here, too, a bidding war ensued that made the price soar from a moderate €2,000 to €7,000 (lot 344).
For the German design, the set of eight 'Brno' armchairs by Ludwig Mies van der Rohe, executed by Knoll International, must be mentioned. The set was bought, in the end, by a New York-based gallery for €3,600 (lot 225).
Find further nice pieces online at our homepage
Post auction sale ends on March 23.  
---