Auction 133B
Design

28. June 2017 at 3:00 PM MEZ CET
---
Catalogue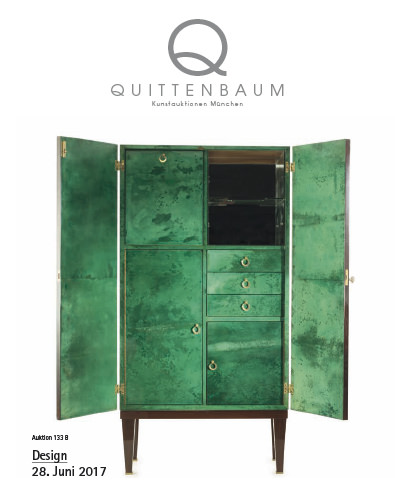 ---
With a total revenue of almost EUR 300,000, the second day of this year's June auction came to a solid conclusion.
From 1900 to 2012, Germany, Italy, France, Scandinavia, USA – this year Quittenbaum created another extensive selection of international design. Shortly after of the auction began a few designs from the early 20th century were requested. The armchair 'Calvet' designed by Antonio Gaudí started at EUR 2,000. In the end due to the interest of multiple bidders, the nutwood-chair sold to a German customer for more than EUR 3,700. The start price of Eileen Gray's Sofa 'Monte Carlo' also quickly double. The elegant combination of chrome and black leather earned more than EUR 2,000.
The five different groups of colorful lanterns from Hans-Agne Jakobsson in different forms and colors were all presented during the auction. Each group was sold for double or even triple its estimated price. Bidders desired many objects from the chapter Scandinavian Design. Eleven 'pantonova – 100' elements from Verner Panton were sold for over EUR 11,000 and the start price of the six folding chairs 'MK 16' from Morgan Koch tripled for almost EUR 4,000.
A highlight of the auction was the 'Wandgarderobe 1' from Karl Auböck. After an exciting exchange of bids, a Swiss collector won the small piece of furniture for EUR 9,600. A huge surprise came from sell of the 1950s small Italian bar with two stools, which was valued from EUR 900 to 1,100. The design of bamboo and wickerwork, that evokes a warm summer night, appealed to multiple bidders. After a long bidding competition, the price rose to almost EUR 14.000 – far more than ten times its estimated value!
In general many objects of Italian design drew the attention of bidders. The green bar cabinet from Aldo Tura, that looks simple from the outside, but is elaboratly designed inside, was sold for EUR 6,000. Oscar Toriasco's unique ceiling lamp '551' reached over EUR 3,800. Bidders enjoyed the large selection of object from Piero and Barnaba Fornasetti. More than two thirds of the objects were bought, most of which over their estimated price.
Find some more rare and unique pieces in our post auction sale that continues until July 21.
---