Auction 147A
Lalique only

12. November 2019 at 3:00 PM MEZ CET
---
Catalogue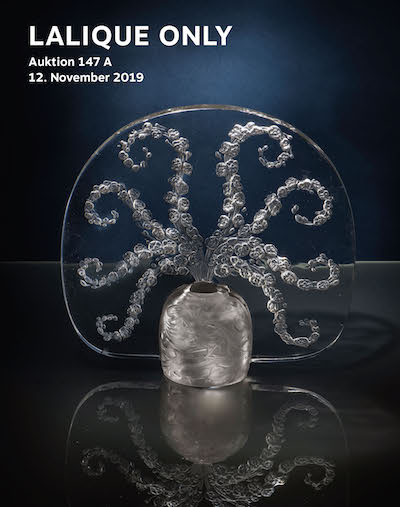 ---
The very lively interest in the 'Lalique Only' and 'Art Nouveau - Art Deco' sales on November 13 and 14 lead to one of the best results since the auction house's foundation in 1998.
Two-thirds of the Lalique glass was sold on the auction day. German collectors and international trade fought strongly in numerous bidding wars, which led to good price increases. The ceiling light 'Feuille de Charme' was called at € 4,000 and went to a New York gallery for just under € 9,000. The blue patinated vase 'Ronces' more than doubled its lower tax and goes to a Swiss collector for circa € 2,300. The highest bid for Lalique was a very early work, a 'Brûle parfum' from 1913, which secured a French collector for just under € 16,000.
In the first part of our large Art Nouveau auction we could register a special interest for early works of Daum Frères and Emile Gallé. Numerous biddings were placed for vases by Charles Schneider, in addition, almost all the glasses of the Bohemian manufactory Lötz were knocked down.The highest proceeds were for Emile Gallé's email-painted vase, Plumes de Paôn '(€ 18,750), for a Lötz' Argus' vase (€ 15,000) and the 'Intercallaire' vase by Daum (€ 7,500).
On the second day, the sculptures were the prelude, and here, as expected, the highest result made a dancer in bronze and ivory by Demètre H. Chiparus. The 'Bayadère' goes to a Latin American collector for € 55,000. Ten more Chryselephantine sculptures could be sold in the five-digit range, mainly to collectors from Germany.
Over the decades, a private collector from Munich has assembled illustrations and paintings of Art Nouveau with great expertise. Part of his collection has now been offered in the auction. Here two landscapes by Georges de Feure in particular achieved € 10,000 and € 6,000 respectively, as well as three portraits of Loie Fuller and Sarah Bernhardt by Lewis Welden Hawkins, which more than doubled their lower taxes with € 20,000 each.
Furniture of Art Nouveau was also in great demand. Two German collectors fought over a small cabinet by Louis Majorelle, which was called at € 6,500 and finally scored € 14,500. At Art Déco, the increases were particularly high: An armchair by Eugène Printz was called at € 6000 and went to a Paris gallery for just under € 18,000. Likewise, Paris prevails against a New York collector in three Art Deco armchairs, which, called at € 6,000, redeemed € 26,400.
All mentioned prices are inclusive of premium / VAT.
---