Auction 144B
Art Nouveau - Art Deco

28. May 2019 at 12:53 PM MESZ CEST
---
Catalogue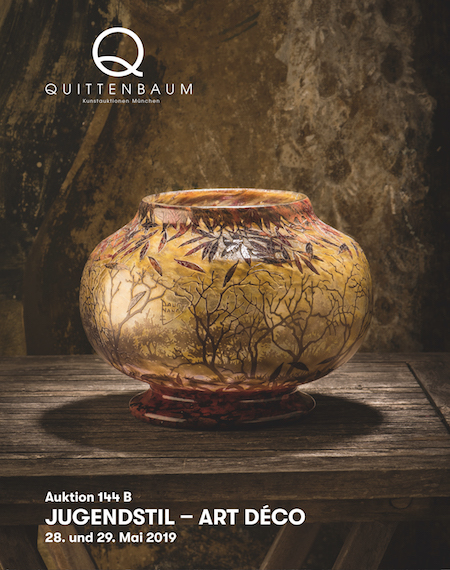 ---
In addition to the French glasses, small sculptures have become established as the second major theme of Art Nouveau auctions at Quittenbaum. Like no other, Ferdinand Preiss was able to capture the hedonistic lifestyle of the 1920s in his chryselephantine figures by seductive dancers and athletes. A Flame Dancer is offered for an estimated € 60,000 - 90,000. Also the flute player from the 1920s, eloquently striding on a black marble pedestal, estimated at € 10,000 - 15,000. Otto Poertzel's snake dancer will surely electrify a number of collectors at an estimate of € 20,000 - 30,000.
All objects can be viewed from 23 May as part of the preview.
Contact: info@quittenbaum.de
---
Next to the two special collections, the objects featured in the main catalogue were also in high demand.
In the glass selection, a wonderful 'Bleuets et Résédas' vase by Daum Frères from the year 1902 stood out. The French trade got the upper hand over its combatants and, thanks to its perseverance, increased the vase's price from EUR 2,900 to EUR 15,000. Several figurines shared the first place in the bronzes section, only the 'Ice Skater' by Ferdinand Preiss shall be mentioned here, which is rarely seen on the market. For EUR 35,000, it will be part of a German collection from now on. A woman's head by Gudrun Baudisch, a rare work from her later phase at the Wiener Werkstätte, received EUR 16,000 as a result of the huge interest the piece received from telephone bidders from abroad. The woman's head will return to Austria now. A French brooch, depicting a young woman's profile, provided for a pleasant surprise. The enamelled gold work from the estate of the late Willy Petzold, Dresden, was called up at a moderate EUR 500 and received a pleasing EUR 3,800 in the end. The three lithographs by Walter Schnackenberg were very popular, too. Each surpassed its estimate, 'Peter Pathé/Maria Hagen', from the year 1918, experienced the biggest price increase from EUR 4,000 to EUR 8,500.
Post auction sale ends on 28 June
---