Auction 144A
Lalique only

28. May 2019 at 2:00 PM MESZ CEST
---
Catalogue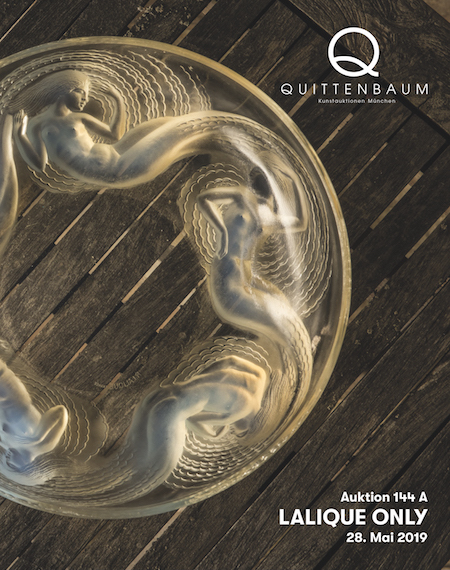 ---
On 28 May we are offering a large glass offer from Lalique.
Various vases, bowls, flacons and ceiling lights make collector's hearts beat faster. These include rare designs such as the 'Poissons' vase from 1921 with delicate opalescent or the 'Monnaie du pape' vase with blue patina.
Five more glass pieces of exceptional quality will be auctioned the following day as part of the special auction 'Masterful Exuberance - The Marie and David Cooper Collection Volume II'. Particularly noteworthy is the wonderful vase 'Bacchantes', which is hard to beat in its opalescens. Another highlight is the vase 'Perruches' in sapphire blue.
All objects can be viewed from 23 May as part of the preview.
Contact: info@quittenbaum.de