Auction 141D
The Marie and David Cooper Collection of Fine Art Deco Sculptures

21. November 2018 at 6:00 PM MEZ CET
---
Catalogue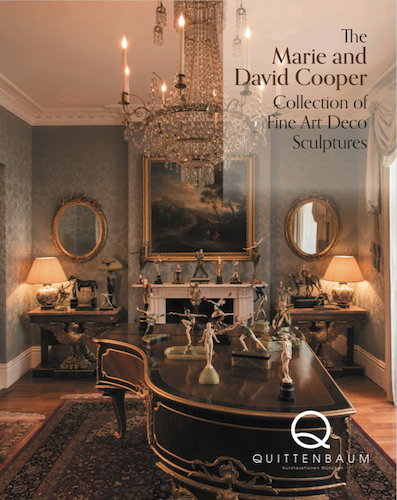 ---
Quittenbaum is delighted to be offering fine Art Deco sculptures from a distinguished private collection. The collection has been assembled over the past thirty years in London and comprises of nearly forty sculptures by some of the finest carvers including Demètre Chiparus, Roland Paris, Paul Philippe, Ferdinand Preiss and Otto Poertzel.
Ferdinand Preiss' female figurines captivate due to their unparalleled liveliness and ease. Having started his career carving antique-like figurines, he soon found his inspiration in the nightlife of Berlin and in world-famous actresses and dancers of his time. The marvellous 'Lighter than Air' figurine received its name from a performance by Ada May (estimate EUR 28,000 – 38,000). The top lots of the collection are, among others, 'Flame Leaper' (estimate EUR 70,000 – 90,000) and 'Spring Awakening', which will be called up between EUR 35,000 – 50,000.
Each piece is in an excellent condition as the collectors took great care in choosing only pieces of the highest quality.
---