Auction 141B
Auction René Lalique & Charles Schneider

20. November 2018 at 6:00 PM MEZ CET
---
Catalogue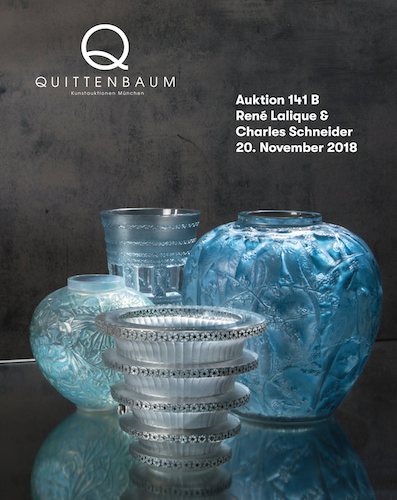 ---
Quittenbaum puts two main players in the centre of attention by holding a special auction dedicated to 'René Lalique & Charles Schneider'.
By comparing the two most important glass manufacturers of the Art Deco era, the variety of the whole epoch comes to light. René Lalique's designs focus on the shape of the object, immortalised in monochromatic, sometimes opalescent glass gather. The sculpture-like objects embrace a simple elegance. By contrast, Charles Schneider plays with colours and structures. Multi-coloured powder inclusions stand in contrast to etched graphic décors.
An early 'Ceylan' (aka 'Huit Perruches') vase by Lalique is among the most beautiful pieces of the selection. The textured pattern of four couples of budgies is highlighted with the magnificent opalescence of the glass (EUR 4,000 - 5,000).
Schneider's 'Lézards' vase shines in lemon yellow, its etched pattern orange red to dark purple depicting lizards and dragonflies (EUR. 1,600 - 1,800).
The diverse selection is completed with flacons, table lights and paperweights.
The auction of the 65 lots takes place on 20 November.
---